Posted on: Thursday, November 2nd, 2017
Matthew Slater Announced as Legends Ball Honoree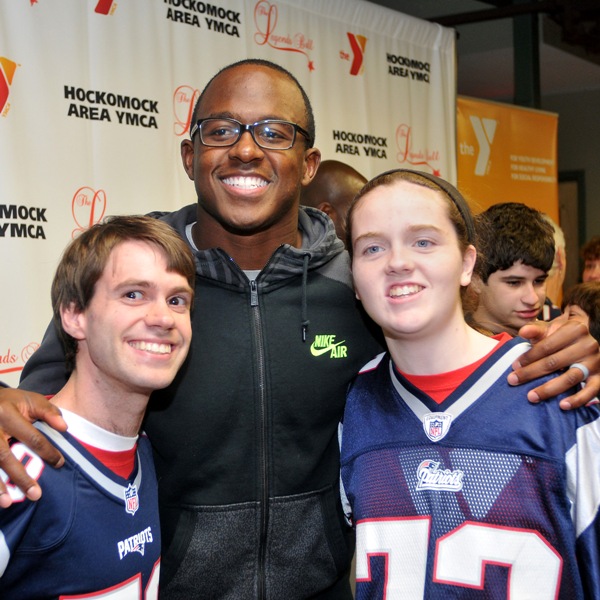 We are proud to honor Matthew Slater as the recipient of the 2017 Legends Ball Award at our 12th annual Legends Ball.
The announcement was made at our Invensys Foxboro Branch Kraft Family Center in the Marilyn Rodman Youth & Teen Leadership Center on November 7th. Matthew Slater is being recognized for his commitment and dedication to our Integration Initiative. Past Legends Award Recipients Rob Ninkovich, Devin McCourty and Steve Grogan made the special announcement acknowledging how deserving of an award this is to Matthew for his commitment on and off the field in the community. Slater is the New England Patriots' special teams captain and wide receiver and a Super Bowl Champion.
Teammate Devin McCourty, and our Y's 2015 Legends Ball Honoree, noted about Matthew, ""Ever since I got here in 2010, Matthew he has been a huge leader in and out of the locker room."
Rob Ninkovich, our 2016 Legends Ball honoree, shared about his former teammate, "I couldn't think of a better guy more deserving than Matt. He is a special person I have become really close friends with through the years. We went through many battles together and I have so much respect for him because of the man that he is and the life that he leads. The way Matt goes about every day is something I admire. I'm honored to introduce my friend, a great teammate, a great man, a great husband, a great father, Matt Slater."
At this announcement, Matthew Slater was surrounded by members of the Integration Initiative including the Flag Football Team as well as the VIP Club (Volunteerism through Inclusive Partnerships). Matthew received a signed football from those participants in attendance and celebrated with him on this honor.
Matthew Slater addressed the participants and families saying, "The great thing about this program – and I hope all of us understand this – we live in society today where we are technically connected more than we have ever been with social media and news." Slater continues, "I think what we fail to do is invest in the relational aspect of things and that's something we are really missing out on. I hope we continue to understand how important it is to connect with people, to build relationships, and just love one another. This is something I truly believe in and that's something I've seen modeled here at the Hockomock Area YMCA ever since I got to New England."
Each year, the Hockomock Area YMCA hosts a gala known as the Legends Ball. Proceeds from the Legends Ball benefit the Hockomock Area YMCA's Integration Initiative, established in 2004, which provides opportunities for children, teens and young adults with special needs and their families to participate in YMCA programs and activities alongside their typically-developing peers.
Learn more about this year's Legends Ball which will take place on November 28, 2017 at Lake Pearl in Wrentham, MA.