Posted on: Tuesday, May 2nd, 2017
Spring Theatre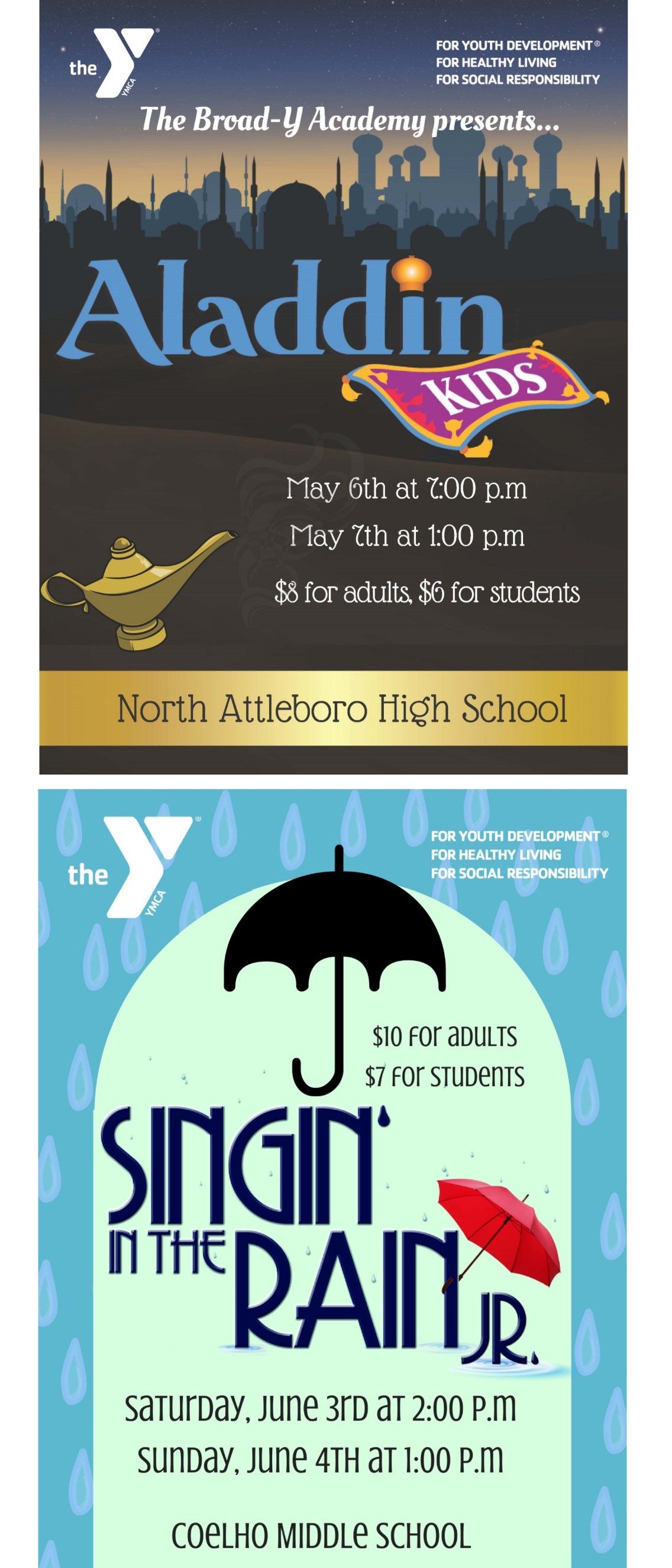 We proudly present Aladdin Kids
and Singin' in the Rain Jr.
Aladdin Kids
You won't want to miss this familiar tale of ingtrigue and romance. A fun show for all! Brought to you by area thespians between the ages of 7 and 10. Be ready to be awed…we hope you will join us.
Performs:
Saturday, May 6th at 7:00 pm
Sunday, May 7th at 1:00 pm
At North Attleboro High School
1 Wilson Whitty Way, North Attleborough, MA
Tickets are $6 at the door for students, $8 for adults
Singin' in the Rain Jr.
Take a break and treat yourself to a stunning performance as our local talent – aged 11-14 – create on stage the toe tapping drama sure to please everyone in attendance.
Performs:
Saturday, June 3rd at 2:00 pm
Sunday, June 4th at 1:00 pm
At the Coelho Middle School
99 Brown Street, Attleboro, MA 02703
Tickets are $7 at the door for students, $10 for adults
The performing arts increase self-confidence and self-expression in students, promote empathy and compassion, and help students learn problem-solving and perseverance. For more information, please visit our Theatre website page.
» UPCOMING THEATRE
INTO THE WOODS:
Preparing students for collegiate theatre programs, providing foundational skills and experiences in the arts, our Theatre Institute presents the spectacular stage performance… Into the Woods
Date TBA
REGISTER FOR SUMMER THEATRE CAMP
» Camp Registration Form (see page 41 for MANSFIELD BRANCH THEATRE CAMPS)
Facebook is a great way to keep up with Theatre news and events.