Posted on: Wednesday, December 20th, 2017
Weigh to Change for the New Year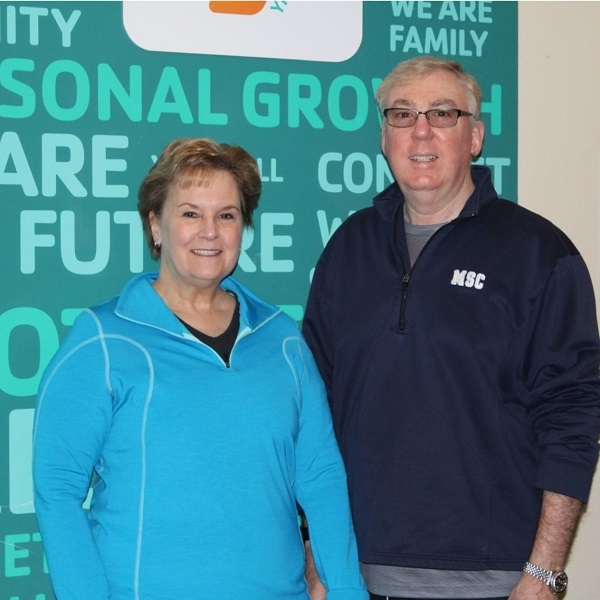 "I am a mom of 8-year old twins. I work full-time and take the kids to all of their activities. I still have the same excuse that I don't have enough time to exercise…except this time I made the time. It was tiring and difficult, but after only 10 weeks, my results were amazing," says Deb Harrington, North Attleboro Branch member of the Hockomock Area YMCA. "I lost a total of 30.2 pounds, 23.8 inches, and 11.1% in body weight."
Harold and Nancy Haley also were part of the Weigh to Change program at our Franklin Branch. They added, "An area that surprised us the most was the knowledge we received from Julie, our nutritionist. Not only did we learn what and when to eat but how nutrition impacts allergies, inflammation, and arthritis and how we feel on a daily basis. There's a lot of truth to the saying 'you are what you eat.' We have both lost weight, alleviated many of our aches and pains and have gotten so much stronger."
Our Weigh to Change program offers a great opportunity to support and guide you in your quest to look and feel better. In fact during 2017, 204 WTC participants lost a total of 1,874 pounds and 1,983 inches.
Registration is now open for our New Year Weigh to Change Program. The 10-week program will run January 29th through April 7th.
Learn more at an information session:
Bernon Family (Franklin) Branch
45 Forge Hill Road, Franklin, MA 02038
Thursday, December 28 @ 6:00pm
Saturday, January 6 @ 9:30am
Wednesday, January 10 @ 7:00pm
Invensys Foxboro Branch
67 Mechanic Street, Foxboro, MA 02067
Wednesday, January 17 @ 6:30pm
Saturday, January 20 @ 9:30am
North Attleboro Branch
300 Elmwood Street, North Attleboro, MA 02760
Wednesday, January 17 @ 6:30pm
Saturday, January 20 @ 9:30am
The Weigh to Change program offers support and education in both areas of fitness and nutrition. By combining physical training and better nutrition, participants will benefit in the most successful way to achieve weight loss. Participants will be challenged throughout the ten weeks with personal training, nutrition guidance, group workouts, and friendly challenge competitions.
Specifically the Weigh to Change Program includes:
Weekly individual 30-minute personal training sessions
Individual nutrition counseling with our nutritionist
Minimum of three weekly group training sessions offered solely for the New Year WTC group
Weekly nutrition and physical challenges
Two Nutrition workshops
Grocery store education tours
Before & after Styku 3-D body scans
Entry into a local road race
The cost of the program is $499 for Hockomock Area YMCA Members and $599 for Hockomock Area YMCA Program Members (over an $800 value). Payment plan available.
REGISTER HERE FOR WEIGH TO CHANGE


"We definitely recommend this program to anyone who is serious about making a daily commitment to how they want to look and feel about their life," recommends Mike and Marilyn Healey, Foxboro Branch Y members.
Start 2018 off in the right direction. Join our Weigh to Change program today and see your own amazing results.