Posted on: Tuesday, August 15th, 2017
Fall Weigh to Change Program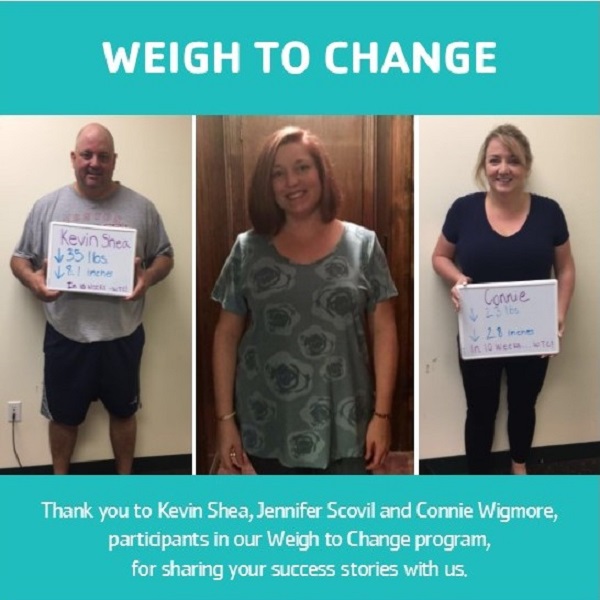 Autumn is the season of change and the perfect time to make healthier lifestyle choices.
Our Weigh to Change program offers a great opportunity to support and guide you in your quest to look and feel better. In fact, over the last year, 216 members have lost a total of 2,107 pounds and 2,289 inches!
Words from some of our participants:
"Over the past 3 years I have tried to lose weight several times. I have completed 10 different weight loss competitions with 20 of my friends. Everyone would lose weight but me. Nothing helped until I tried the Y's Weigh to Change program. With the help and guidance of the Y staff, I lost 12 pounds during the 10 weeks! I still have 50 pounds to go but the big difference now is that I know I CAN do it. And that feeling is priceless!"
– Jennifer Scovil, Milford resident
"I have been overweight for years. When I entered my late 40's, my body was constantly in pain and I was always tired. My weight was affecting my mood and undoubtedly my future health. The Hockomock Y's Weigh to Change program is different from other weight loss programs because it is so comprehensive combining both physical workouts and nutrition. I am amazed…I lost 35 pounds and 8 inches off my waist in 10 weeks! Weigh to Change is incredible; I wholeheartedly recommend it!"
– Kevin Shea, North Attleboro resident
"I originally set a goal to lose 10 lbs and complete a 5k race. Well, I have run my first 5k and have now lost a total of 23 lbs and 28 inches in 10 weeks. The reason this program is such a success compared to all of the other programs I have tried before, is because Weigh to Change is the entire package. The nutrition information is priceless. I went to every grocery store tour and found them really informative. I love being able to compare my before and after Styku body scans. I learned so much about exercise and nutrition and how to believe in myself again!"
– Connie Wigmore, Foxboro resident
Registration is now open for our fall program.
The 10-week fall Weigh to Change program runs September 11th through November 18th.
Learn more at an information session:
Bernon Family (Franklin) Branch
45 Forge Hill Road, Franklin, MA 02038
Wednesday,vAugust 30 @ 6:30pm
Thursday, September 7 @ 6:30pm
Invensys Foxboro Branch
67 Mechanic Street, Foxboro, MA 02067
Wednesday, August 30 @ 6:30pm
Thursday, September 7 @ 6:30pm
North Attleboro Branch
300 Elmwood Street, North Attleboro, MA 02760
Thursday, August 24 @ 6:00pm
Monday, August 28 @ 6:00pm
The Weigh to Change program offers support and education in both areas of fitness and nutrition. By combining physical training and better nutrition, participants will benefit in the most successful way to achieve weight loss. Participants will be challenged throughout the ten weeks with personal training, nutrition guidance, group workouts, and friendly challenge competitions.
Specifically the Weigh to Change Program includes:
Weekly individual 30-minute personal training session
Individual nutrition counseling with nutritionist
Minimum of three weekly group training sessions
Weekly nutrition and physical challenges
Two Nutrition workshops
Grocery store education tours
Before & after Styku 3-D body scans
Entry into a local fall road race
The cost of the program is $499 for Hockomock Area YMCA Members and $599 for Hockomock Area YMCA Program Members (over an $800 value). Payment plan available.
REGISTER HERE FOR WEIGH TO CHANGE


Become one of our Weigh to Change success stories…you will be so glad you did!